NEWS
EVENTS
Please see our FaceBook Page for all Past and Upcoming Events.
We'd love to meet you!
PURPO™ by Beviva® Brings Superfood Purple Sweet Potatoes to Breakfast
Upland, CA—Beviva® Foods, innovator of fuss-free, nourishing foods for those living with chronic gastrointestinaldistress, proudly introduces PURPO™, a plant-based line of prebiotic, gluten-free snacks and mini-meals powered bynon-GMO purple sweet potatoes. A wealth of immune-boosting antioxidants and anti-inflammatory nutrients, purplesweet potatoes are an excellent source of dietary fiber, vitamins A, B6 and C, essential minerals and sustainable energyfrom complex carbohydrates. PURPO combines the superfood benefits of purple sweet potatoes with thoughtfullyselected, hypoallergenic ingredients in two flagship products that make America's favorite breakfast an anytime treat:
PURPO All-in-One Cereal Cup
Brimming with flavorful, real-food ingredients that are gentle on sensitive stomachs,PURPO All-in-One Cereal Cups provides 8g of dietary fiber and less than 1g of addedsugar per serving. Each 200-calorie cup contains one packet of PURPO granola, a festivemix of crisp rice, purple sweet potato and shredded coconut studded with toothsomenuggets of dried fruit; plus one packet of Beviva's probiotic Oat Mylk powder, aproprietary blend of glyphosate-free oats that transforms into a creamy beverage withthe addition of cold water. A spoon included inside every cup allows consumers to enjoya convenient, satisfying mini-meal whenever a sit-down meal is delayed or impractical; orwherever healthful food is limited, unreliable or cost-prohibitive.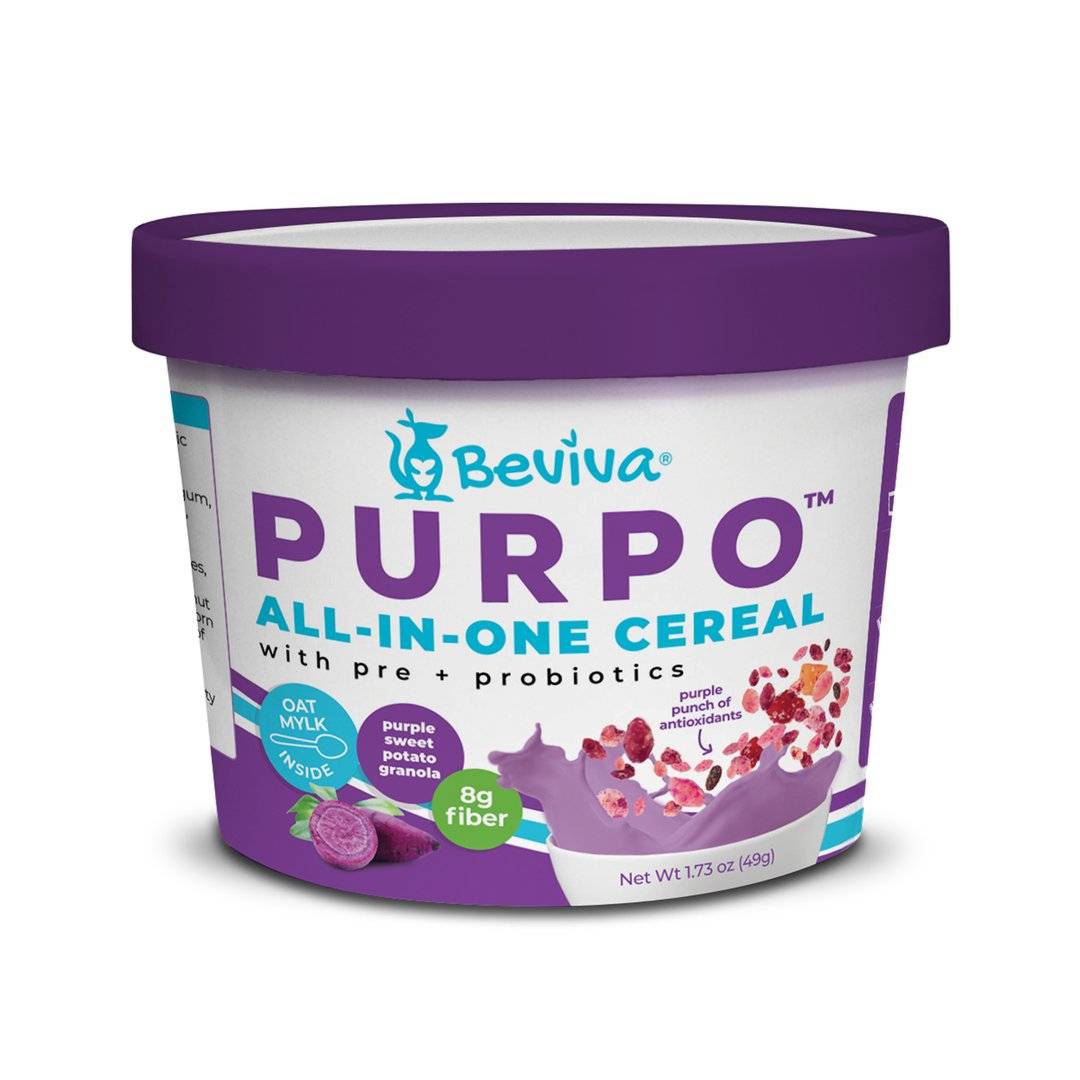 Crisp and craveable with a colorful superfood punch, PURPO™ Granola Pouches offerBeviva's prebiotic purple sweet potato granola in single-serving, 150-calorie bags. With6g of dietary fiber and less than 1g of added sugar per serving, PURPO™ Granola makesan ideal snack on its own, or sprinkled atop yogurt, smoothie bowls, frozen desserts andfrosted cupcakes. For a fun and wholesome flavor boost, PURPO Granola also doubles asa creative ingredient in homemade cookies, energy bites, trail mix and pancakes.PURPO products are currently available online at bevivafoods.com and Amazon.com for  $3.50 per Cereal Cup and $2 per Granola Pouch, with case packs and samplers available.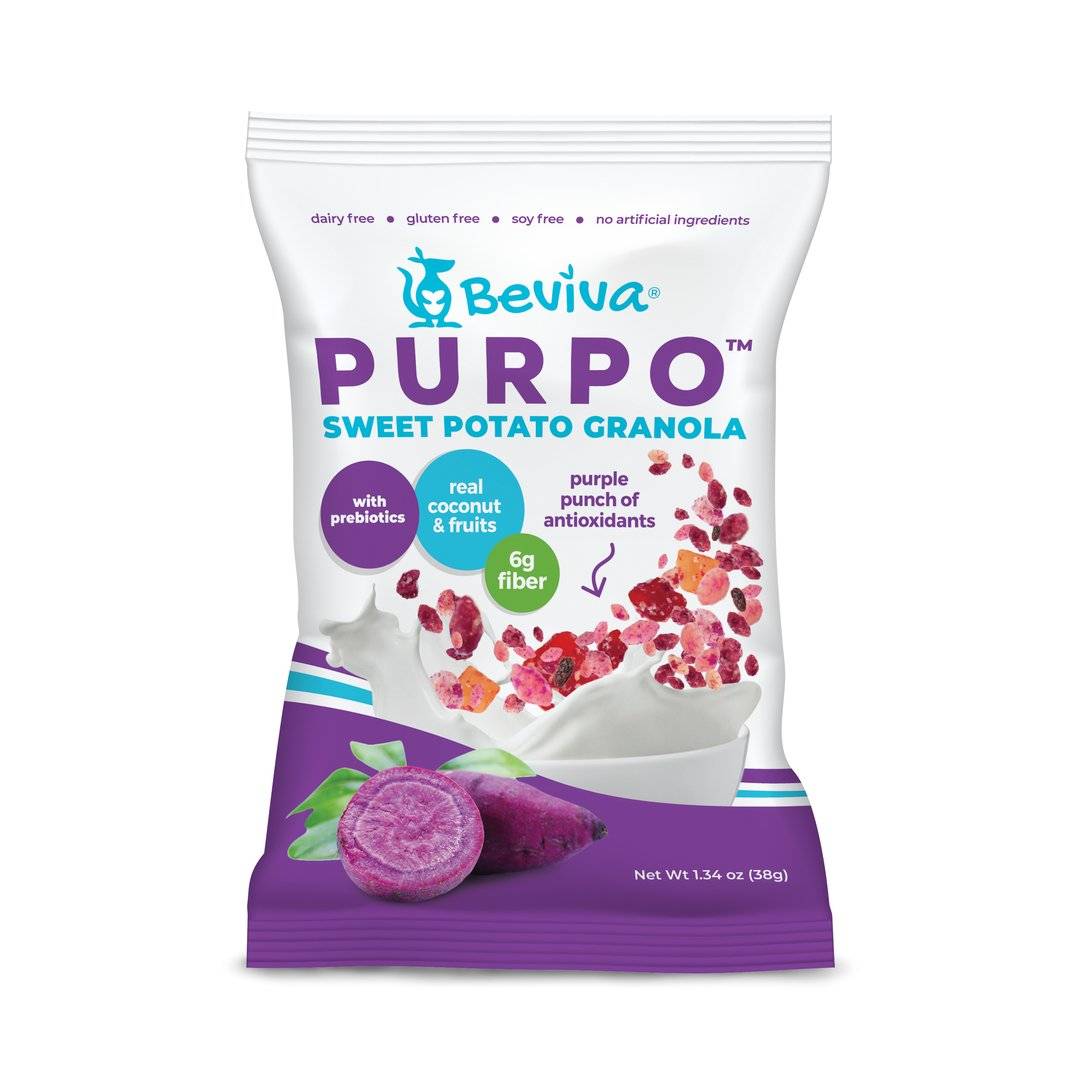 The Path to PURPO 
 Beviva's travel-friendly PURPO line was inspired by founder Sylvia Tam's personal journey to wellness as one of 70 million Americans living with a gastrointestinal disorder. Following a diagnosis of Ulcerative Colitis, a form of Inflammatory Bowel Disease, Sylvia battled debilitating symptoms daily while juggling a demanding career and three energetic kids. "I learned that being diligent about my eating schedule and food choices was key to managing my UC," says Sylvia. "I was constantly looking for easy, pre-packaged options that could keep up with my lifestyle. I found that many foods promoted as gut-friendly are actually problematic for those with IBD. Ingredients like dairy, whey protein, soy, lentils, peanuts, chickpeas, and beans are smart choices for most healthy adults, but can aggravate IBD symptoms." 
Seeing the lack of better-for-you products designed for the IBD community, Sylvia dove into researching optimal foods for digestive health, and was intrigued by how often purple sweet potatoes popped up in her notes. "Oven-roasted sweet potatoes have been a favorite of mine since childhood," says Sylvia, "but they don't quite come to mind when grabbing a quick bite. My go-to snack was my homemade granola, which was in constant rotation at my house because my husband and kids loved it, too--it upheld both the convenience and the experience of sharing meals together. My entrepreneurial epiphany came when I imagined purple sweet potatoes presented in a format as familiar and family- approved as cereal, and PURPO was born."
About Beviva Foods 
Founded in 2018, Beviva Foods is dedicated to making fuss-free, flavorful & nourishing food for those living with a chronic gastrointestinal disorder. The company's mission is a reflection of CEO Sylvia Tam's personal battle with severe Ulcerative Colitis, and her passion for helping others who share her journey, thrive. The brand's flagship line, PURPO by Beviva, is a collection of all-natural, plant-based snacks featuring the purple sweet potato, a fiber-rich antioxidant powerhouse. Gluten free and crafted without hard-to-digest ingredients like beans, legumes, soy, and artificial sugars, PURPO™ Cereal Cup and PURPO™ Granola Pouches are a flavorful and satisfying source of sustainable energy. National demand for PURPO™ from the community of Inflammatory Bowel Disease patients and their families has established impressive traction for the brand online at bevivafoods.com and a newly launched Amazon store. Beviva is now focused on expanding its wholesale distribution to the foodservice, travel retail and natural and specialty grocery channels. 
 Contact: Sylvia Tam | (707) 742-3559 | Sylvia@bevivafoods.com